The Maldives Island, bestowed in the bed of Indian Ocean, has been one of the most sought after holiday destinations. Maldives is popularly associated with the phrase 'sunny side of life'. As the name rightly suggests it definitely brings out the sunny side of our life – entertainment, adventures, enjoyment; name it we have it. The island is the right place to chill out with family or for the honeymooners. It seems like God bestowed this place with the perfect back drop we long to have in life. The clear blue sky and the untouched clear deep blue water will draw us back to this wonderful island over and over again to relive our life. It is a place full of life where people sit and enjoy the beach and sunset with a cocktail in hand watching the fishes swim around the coral reef just a few steps away. It is a personal paradise one can choose to have.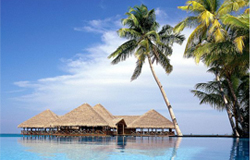 Weather also seems like picture perfect to one's eyes. The sunlit days and breezy nights make Maldives a dreamers land with the temperature at 30 degree Celsius. The temperature hardly changes which makes one's life easier and simple. You need not waste time in packing – wow! The rare thunderstorm brings a welcome respite from the bright sunny day. The warm temperature still allows you to go for a stroll in the rainy weather – thoroughly a wonderful experience. To enjoy a more exhilarating experience, take a swim when it is drizzling – the sea will be extra warm.
Here are some of the things to do in Maldives:
Diving
Swimming with the unseen fishes and other underwater creatures which inhabit the Maldivian waters is a definite to do in list. Water sports is one of the most sought activities in Maldives. Enjoy water polo and surfing with friends.
Excursions
To add beauty to the package one needs to experience some of the untouched island and conclude the day with safari.
Spa and wellness
Just listening to the calm wave sounds and nothing else itself is like music to the ears.The salt in the air and the feel of the white sand is so relaxing.
To add more to the fun one needs to enjoy the ultimate fish supper in Maldives. The menu runs tempting with spiced scallops and tuna sahimi to lobster fricassee. The names look interesting and so does the taste cooked to tick off one's taste bud. Take the right chance to visit this small island of the world which is a treat to one's eyes.
To enjoy and experience Maldives to the fullest, get in touch with a reliable travel agent who will arrange a tour package according to your budget and tastes.