1. Trivandrum Zoo (or Thiruvananthapuram Zoo) is one of the oldest zoos in the country. The Maharaja of Travancore, Sri Swathi Thirunal Rama Varma (1830 -1847), established the zoo in 1857 in Thiruvananthapuram, the capital city of Kerala, as an annex to the Napier Museum, a famous art and natural history museum in the city.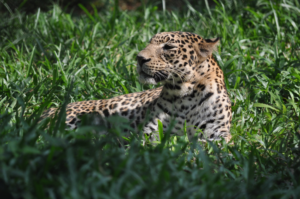 2. However in 1995, major renovation works took place, and the zoo underwent a lot of innovative changes with its old enclosures replaced by open naturalistic enclosures.
3. This zoo in the 'temple city of Kerala' is the home to nearly 82 species of exotic animals including Indian rhinoceros, lion-tailed macaque, Nilgiri langur, Asiatic lion, royal Bengal tiger, Asian elephants, white tiger, leopard, hippos, giraffes, Cape buffalos and zebras and rare birds.
4. Animals in this zoo are usually released in an open enclosure from their century-old cages, and can be easily viewed at a close distance.
5. With rich natural vegetation, breath taking landscapes and green habitat, the zoo also encloses a reptile farm and snake farm – an exhibition of both venomous and non-venomous snakes, besides 7 anacondas.
6. It is also rated as one of the cleanest and beautiful in zoos in South East Asia, on a sprawling 55 acres of land offering a regal look of towering bamboos, tall trees and beautiful milieu.
7. It also serves as the perfecting getaway spot for the locals and a must-see destination for tourists from outside of Kerala and overseas.
8. A new hospital with state-of-the-art equipment has also been established here.
9. The zoo is located at a distance of 3km from Thampanoor Bus Station. You can take a bus from the K.S.R.T.C bus enroute to Museum, Peroorkada, Vellayambalam, Museum, Sasthamangalam, and Nedumangadu. In addition to public transportation, cabs, autos and busses are readily available at affordable charges.
10. The recommended time to visit the Thiruvananthapuram Zoo is during the winter months, when the weather is relatively pleasant and balmy to come out in the sun.