Kerala is famous for its beaches and backwaters. But to enchant visitors the God's Own Country offers other experiences and landscapes. These include mist clad hills, charming hill stations filled with expansive tea and coffee plantations, and unending spice gardens. The hill stations in Kerala provide plenty of opportunities for an unforgettable and exciting trip whether you are on a romantic escapade or family outing.
Here are the top hill stations in Kerala you should not miss:
1. Wayanad
Wayanad, with its mountainous rivers and mist clad mountains, is an idyllic destination for a weekend getaway. It also has a lot of adventure spots apart from spice plantations, thick rainforest, and dazzling waterfalls.
Time to Visit: October to May
Must-see spots
To enjoy breathtaking views visit Chembra Peak. A wide variety of plant species, birds and animals can be seen in the deep caves of Pakshipathalam.
Adventure lovers can do some rock climbing near the most beautiful Soochippara waterfalls.
For picnic an ideal spot is the evergreen forest – Kuruva Island – on the tributaries of River Kabani.
The biggest abode of elephants in India, Muthanga Wildlife Sanctuary, is also a must visit.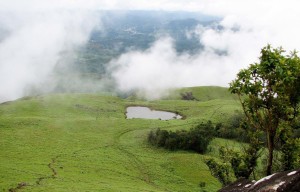 2. Munnar
Munnar is a honeymooner's paradise. It is also frequented by all types of travellers as it has something for everyone – verdant tea gardens, parks, dams, spots for trekking and more.
Time to Visit: October to November and January to May.
Must-see spots
Anamudi, the highest peak in south India, is situated at the Eravikulam National Park in Munnar. The famous Nilgiri Tahr, wild balsams and epiphytic orchids, are highlights here.
To taste a variety of teas and to learn about tea processing visit the TATA Tea Museum.
If you want to spot wild elephants and to enjoy the serenity of nature visit Mattupetty Dam and lake.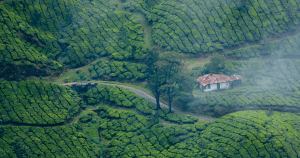 3. Vagamon
Vagamon is surrounded by three hills. It is a combination of forests, meadows and hills with breathtaking views. This hill station is filled with natural beauty. It is the best place to go for nature trails.
Time to Visit: March to May.
Must-see spots
Managed by Kurisumala monks, Kurisumala Dairy Farm is untouched by city life and has the ambience of an idyllic country-side.
To see the unique rock formations climb atop Thangal Para. There are many ancient caves to explore.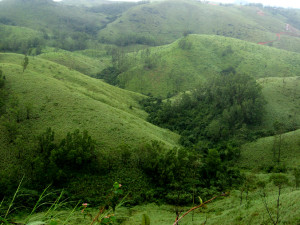 4. Ponmudi
Ponmudi near Trivandrum is yet another beautiful hill station. A ride to Ponmudi is breathtaking with picturesque views along narrow winding pathways. With small rivulets, exotic butterflies and a beautiful array of mountain flowers, it is one of the best romantic destinations in Kerala.
Time to Visit: January to March.
Must-see spots
For a leisurely picnic visit the Golden Valley and take a dip in the crystal clear waters of River Kallar.
If you love adventure take a trek from Kallar to Meenmutty waterfalls. The trek through dense forests offers beautiful views. For tourists to reach the falls the Forest Department provides guides.
For thrilling adventure sports like paragliding Mundakayam Ghat is the place.
Peppara Wildlife Sanctuary is another place you should not miss. It has a variety of wild animals like Asian elephants, lion-tailed macaques, sambar, Malabar grey hornbills, etc.
5. Silent Valley
Much of the natural charm is still well preserved in Silent Valley unlike many of the commercial hill stations. The Kurumbar Tribes are settled here. You can see rare species of birds and animals, and rich flora and fauna. Silent Valley National Park is one of the most ecologically diverse areas on the planet. But you need special permission from the Forest Department office at Mukkali to visit the park.
Time to Visit: December to April.
6. Thekkady
This exotic hill station has rich flora and fauna and a lot more on offer.
Time to Visit: September to May.
Must-see spots
The prime attraction is the Periyar Wildlife Sanctuary where you can indulge in nature walk, bamboo rafting, and go on the tiger trail.
Vandanmedu cardamom plantations and Murikkady cardamom, coffee and pepper plantations are ideal picnic spots in Thekkady.