Verdant hills, old cottages, and a cool climate make Nainital one of the best hill stations in India. Nainital offers tourists myriad places to visit. From boating and sailing to visiting old temples and heritage buildings, it's a tourist's paradise.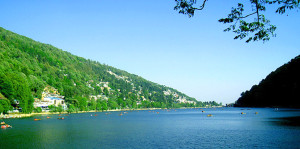 Here's a list of some of the top places you should not miss in Nainital.
Naini Lake
In Nainital one of the most popular tourist attractions is the Naini Lake, which is known as its lifeline. It is surrounded by seven lush hills and is a sight to behold! Apart from enjoying the scenic surroundings, tourists can engage in a variety of activities in the pear-shaped lake like paddling, boating and yachting. Apart from watching a beautiful sunset, one can explore the lake from one end to another.
Naina Peak
The highest peak in Nainatal, Naina Peak (also known as China peak) gives an excellent view of the city as well as a magnificent view of the show clapped Himalayas.  The peak is famous for horse riding and trekking. The best time to visit the peak is early mornings when there won't be much rush and you can enjoy nature's bounty in peace.
Tiffin Top  
Tiffin Top, built in memory of painter Dorothy Kellet, is also known as Dorothy Seat. It is a popular picnic spot and offers breathtaking views of the town as well as the Himalayas.
The Mall Road
One of the top places to visit in Nainital is the Mall Road. It is a shopaholic's paradise, with many shops, restaurants, hotels and more.
Snow View Point
The oldest Snow Viewpoint is another must visit in Nainital. From here you can enjoy the majestic Himalayas and it snow clad mountains. You can reach there either by road or by an aerial ropeway or by trekking and enjoy the views of snow-capped hills like Nanda Devi and Nanda Kot.
Nainital Zoo
To see exotic and endangered species of animals and birds native to this region you must visit the Nainital zoo, nestled at an altitude of 2100 meters. Barking Deer, Snow Leopard, Siberian Tiger, Hill Fox, Palm Civet Cat, White peacock and many more species have been housed here.
Raj Bhawan- Governor's House
Currently the residence of the Governor of Uttarakhand, Raj Bhawan was built for the Governor of North West Province. It is one of the most luxurious places to visit in Nainital. Inspired by the Buckingham Palace, it is built in Gothic-style architecture.
Naina Devi Temple
Naina Devi temple rests over the banks of Naini Lake and is the best place to visit for some introspection. It attracts a great number of devotees. The goddess Shakti is worshiped at this temple.
Bhimtal Lake
Bhimtal, named after the legendary Bhima of Mahabharatha, is one of the most serene places to visit near Nainital. The lake has a small island at its middle and is beautifully centred amidst green mountains.
Eco Cave Gardens
The Eco Cave Gardens comprises seven caves, which can be reached through a narrow and winding road. It is the best spot to hang out with your family.
Binayak  
Binayak is a must visit place near Nainital for adventure lovers. It is a popular trekking spot and offers fantastic trails amidst towering pine trees.