Do you have a long weekend coming ahead and want to head out for a lovely holiday or an adventure trip? Coorg is the right place that provides everything you wish for. Also named 'Scotland of India', it is famous for its misty mountains and coffee estates. There is so much to see, admire and hook up at this hill station located on the slopes of the Western Ghats. At a height of about 1525 meters, the 'Kodagu' as what the locals call, features waterfalls, forest, trekking trails, wildlife, woods, valleys and some mouth-watering cuisine.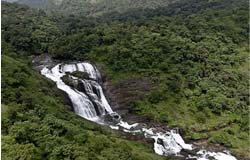 Listed here are the top most attractive and must see places of Coorg,
Nagarhole National Park
Nagarhole National Park is situated between Coorg and Mysore district. This park is also known as Rajiv Gandhi National Park. Spreading over an area of about 643 square kilometres, the park protects rare species of wild life and trees. It is also a home for 270 species of birds which also include rare and endangered birds.
Omkareshwara Temple
The Omkareshwara Temple was built during 1820 by Linga Rajendra II for Lord Shiva. The 'Shivalinga' of the temple was brought from Kasi and is named after it. The temple reflects both Hindu and Islamic style of architecture with window bars having made of 'Pancholoha' – a combination of five metals.
Dubare Elephant Camp
The Dubare Elephant Camp is a popular elephant training camp located near Madikeri. The deciduous forest features Asiatic elephants, samdhar, spotted dear, gaur, patridges and more. Tourist can enjoy ride on elephant into the forest, wildlife safari in jeep and coracle ride.
Somwarpet
Somwarpet is a small town on the north east of the Coorg district. It features 'Beelur Golf Club', the oldest club with lush green golf ground. Tourists also visit Malemalleshwara Betta during Maha Shivaratri for enjoying the grand celebration.
Bhagamandala
Bhagamandala is a sacred place for Hindus where the river 'Sujyothi' is believed to join underground. The pilgrims purposely come here to complete the rituals for their ancestor by dipping themselves into the river.
Iruppu Falls
Iruppu Falls is about 140km from Mysore that originates from Lakshmana Tirtha River. On the banks of this river, tourists can find the popular Rameshwaram temple that attracts huge tourist on Shivarathri festival. According to the Hindu mythology, Lord Rama and Laskshmana is believed to pass this river when in search of Sita, Lord Rama's wife. The ideal time to visit Iruppu falls is during the monsoon season where the fall receives highest flow of water and renders a breath taking sight for its visitors.
Bylakuppe
Bylakuppe is the second largest Tibetan settlement outside Tibet and is located on the state highway 88. Due to the Chinese aggression during 1960's a large population of Tibetan settled here and built the most significant monasteries like Great Gompa of Sera Mey and Sera Je.
Coorg is one of the wonderful places to visit at any time of the year with so many spots to look around. All you need to do is plan a trip to Coorg and sit back to relax the mist covered mountains and enjoy the sound of bird-calls in the air.