Dusseldorf is famous for its fashion industry and art scene. It has many universities, too. You will find a lot of stylish shops, parks and gardens surrounding its lively downtown area. It is Germany's most important cultural centre, and has many museums and art galleries. Dusseldorf's location is its high point. It is situated on the Rhine and has many wide squares and magnificent riverside walkways. Here are a few must-see spots in Dusseldorf.
Konigsallee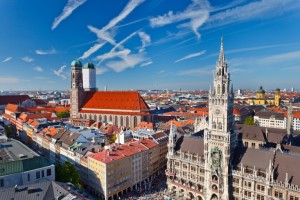 Konigsallee, known as Ko, is for the shopping buffs. There are many exclusive shops, and luxury shopping malls. It also has numerous art galleries, restaurants and cafés, making it the best holiday destination.
Schloss Benrath
Schloss Benrath is a splendid decorative palace constructed between 1756 and 1773. The highlight is the interior of the palace. You can also take a leisurely stroll around its huge park and gardens. The palace has three outstanding museums, which throw light on 18th century Germany. The Museum Corps de Logis, which throws light on the history of Benrath and its architecture, is in the main palace building. Museum for Landscape Art and the Natural Science Museum are located in other park buildings.
North Rhine-Westphalia Art Collection
The North Rhine-Westphalia Art Collection or Kunstsammlung Nordrhein-Westfalen, is a large gallery with numerous works of modern art, and is spread across three locations in Düsseldorf. Nicknamed K20, it is one of the top attractions here.
Kaiserswerth
Kaiserswerth is one of Düsseldorf's oldest neighbourhoods. If you love to see ancient architecture this is the place to be. Its many old buildings and picture-perfect location on the Rhine makes it a tourist's haunt. The Church of St. Suitbertus, renowned for its beautiful reliquary of the saint, and the Kaiserpfalz, the majestic stronghold of Emperor Frederick I, better known as Barbarossa, are must-see places.
The Museum of Art: Kunstpalast
The Museum of Art (Museum Kunstpalast) houses fine art, sculptures and drawings, and innumerable graphic art, photos, and applied art works. You can also watch theatre performances and classical concerts.
Old Town Düsseldorf
Düsseldorf's Old Town (Altstadt) is well preserved and is a great attraction. The central point of the Old Town is the Marktplatz where you'll find the impressive Town Hall. Another must-see place on the banks of the Rhine is the Castle Tower (Schlossturm). The Castle Tower is home to the Schiffahrts Museum, one of Germany's best marine museums with charming exhibits, which throws light on the history of shipbuilding and trade. Hetjens Museum, with innumerable ceramics, porcelain and earthenware, is also worth a visit.
Neue Zollhof and the Gehry Buildings
If you love modern architecture, visit Neue Zollhof, a stunningly redeveloped section of the city's old port. The highlights here are certainly the office buildings of Media Harbor ­­- three fairly different structures that seem to challenge gravity as they bend and arch. It feels like they are wobbling, and is an amazing architectural feat. The nearby Rheinturm Tower, the tall telecommunications tower, is also worth a visit. You can enjoy an excellent view of the city from its observation deck. Dusseldorf is the best place for corporate tours to enjoy their lesiure time with their colleagues.