Zanzibar was a land of sultans and slave traders, but today it is a place of many attractions like the white sandy beaches, dense rain forests and vibrant coral reefs. Zanzibar was known as the spice island and has incredible beauty that'll leave you jaw-dropped. Here are the top attractions around Zanzibar.
Chumbe Island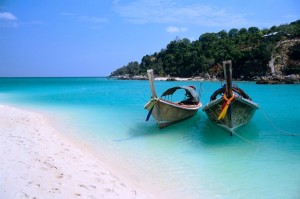 The Island is blessed with several hectares of virgin forest land surrounded by extraordinarily beautiful coral reefs. It houses over 200 species of stone corals and 400 fish species, turtles & dolphins. There is also guided walking into the small forest, snorkelling and swimming.
Jozani Forest Tour
This forest is home to Zanzibar leopards. It has several medicinal plants and other trees. This tropical rainforest has breathtaking beauty on all sides. The troops of Red Colobus monkeys jumping from branch to branch are a must-see. This swamp is surrounded by rich mangroves that protect the entire area.
North Coast Tour
A tour through the north coast gives you access to the traditional dhow making. Other attractions are the turtle sanctuary and the aquarium. The Nungwi village is a great way to experience local culture and cuisine.
Prison Island
Prison Island, though a Quarantine Station once, is now a bird haven with various bird species and Aldabra Giant tortoises. The sandy beaches and the thick forest seem like paradise on earth. The sight of the dhows fishing is a not-to-miss opportunity for travellers.
Spice Tour
Zanzibar used to export spices around the world. Now they pay a tribute this glorious past by arranging tours for travelers to purchase spices. Several tropical fruits are also included in this tour waiting to be tasted.
Stone Town
This is the old quarter of Zanzibar and also got an intricate Indian influence from the past. Places like the Sultan's Palace, House of Wonders, Anglican Cathedral, Slave Market, the Old Fort, Forodhani Gardens, Old Dispensary, dispensary, Darajani Market, Peace Memorial Museum and the Hamamni Persian Baths are the several buildings in Stone Town that are waiting to be explored by the hungry traveler.
Sunset Dolphin Dhow Cruises
You can experience a beautiful sunset while cruising in the dhows. Your evenings can't get more fascinating than this as you get to see bottle nose dolphins swimming alongside your dhow.
The Zanzibar Land Animal Park
The ZALA Park is a fine example of sustainable development. It has the Children's Center for Environmental Education, The Reptile Collection, The Antelope Breeding Program and Small Mammal Collection, Research Opportunities in Wildlife, Conservation, and Environmentla Trends in Zanzibar, The New Nursery School in Mungoni, Aquaculture and Opportunities to Participate and to Assist ZALA.
Zanzibar Butterfly Centre
The Zanzibar Butterfly Center exhibits a live display of colorful Tanzanian butterflies. Funds are raised from tourist admissions to run the local projects.