If you are in Kanyakumari or Cape Comorin, the lovely scenic coastal town in TamilNadu on India's southernmost tip, you got to visit the world famous Vivekananda Rock Memorial, considered to be one of the country's most sacred rock monuments.  The Vivekananda Rock Memorial or the Vivekananda Mandapam has a grand structure and an impressive entrance that would remind one of Sri Ramakrishna Temple of Belur.  The only way to reach the Vivekananda Mandapam is to use the ferry service operated by the TamilNadu Department of Tourism which provides leisure cruise into the sea at affordable charges.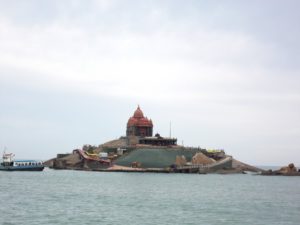 The Vivekananda Rock Memorial is built on the top of two rocks that are about 500 metres off the island.  It was constructed in 1970 by the Vivekananda Rock Memorial Committee to honour the visit of the great spiritual sage and philosopher Swami Vivekananda to Shripada Parai on December 24 1892, prior to his taking part in the  1893 'World Religious Conference' in Chicago.  It is said that he did intense spiritual meditation on the rock for two days to attain enlightenment.  The infinite love for the motherland made Vivekananda, the greatest patriot monk ever, tour all over the country. His three-day meditation on the mid-sea rock or Vivekananda Paarai proved a turning point in his life, for it is here he contemplated on the past, present and future of the country, and put forth the idea of the glorious Bharatvarsha. Later, Vivekananda became the country's most illustrious Hindu spiritual reformer and philosopher.
The Vivekananda Rock Memorial houses two main structures namely Vivekananda Mandapam and Shripada Mandapam, turning out to be small coastal town's main attraction. It was the late Eknath Ramkrishna Ranade, the social activist and leader, who mobilized support in the construction of the rock memorial that today is an embodiment of India's rich cultural ethos and values.  The Vivekananda rock is generally open to public on all days and draws tourists in large numbers every day.