From the absorbing and awe–inspiring magnificence of the San Agustin Church at Intramuros in Manila, let us take a peek into the Islamic cultural heritage of Malaysia with the Crystal Mosque at Terengganu in Malaysia, which is no short of architectural beauty and grandeur.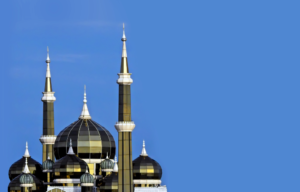 The 'Masjid Kristal' or Crystal Mosque in Bahasa Malaysia was open to performing prayers in 2008. Its construction began in 2006 and was officially inaugurated in 2008. Kuala Terengganu is no less than an intriguing place to be with several attractions including the popular Islamic Heritage Park that was opened around the same time. Located near the Islamic Heritage Park is the Crystal Mosque that follows a distinct flavour of Muslim art and architecture. The importance of the mosque, which has four traditionally–designed minarets, to the city is placed higher than to the religion of Islam itself.
Kuala Terengganu, like many towns and cities in Malaysia, was a charming and quaint fishing village. But the 'eureka' moment is when oil was discovered nearby, and a model town was built around it. The Crystal Mosque, glittery, splashy and modern with a dash of tradition, now, embodies the spiritual and traditional values of the region.
Architectural Specifications
Though you can find some actual crystal embedded within the structure of the mosque, the clear material that sticks out is glass. If you want to experience the full effect of its crystalline exteriors, it is recommended to visit the magical place in the moonlight, when it's illuminated and almost seems surreal as a dream!
In addition, the Masjid Kristal, which can put up nearly 1500 people at one time, though more can be accommodated outside it during Ramdhan and Bakrid, is designed using steel structure in combination with the crystal and glass works.
How to get there?
You can reach Kuala Terengganu either by car or bus, but the easiest and fastest way out there is to take a flight through Kuala Lumpur, either on Malaysia Airlines or AirAsia. The Crystal Mosque, as you can view from anywhere even from a long distance, is easily reached by taxi, depending upon where you're put up with, how inclement the weather is and how much time is left to travel.
The recommended time to visit the mosque and, in fact, the best time to tour around Malaysia or any Islamic country, you can think of, is during the blessed month of  Ramadhan, the perfect time to turbo–charge yourself spiritually or treat yourself to the exotic local foods and drinks after breaking the fast. Do refer to an Islamic calendar to find out when Ramadhan falls and do your planning accordingly.